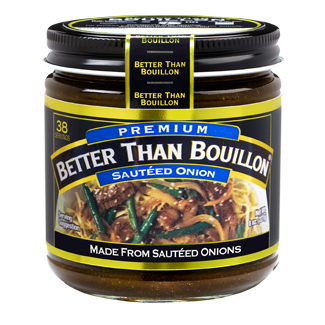 Sautéed Onion Base
1364 premium
NEW! Better Than Bouillon® Sautéed Onion Base is made with real onions. Easily spoon it from the jar to add savory, robust onion flavor to marinades and glazes, meats, soups, sides and slow cooker dishes. It's a simple way to make some of your favorite dishes that much better.
---
Ingredients
SAUTEED ONION, SALT, WATER, SUGAR, ONION POWDER, HYDROLYZED CORN PROTEIN, SOYBEAN OIL, YEAST EXTRACT, MODIFIED POTATO STARCH, NATURAL FLAVOR, XANTHAN GUM
Nutrition Facts
Serving Size: 1 tsp
Servings (per 8 oz container): 38
10 Calories
---
---
---
Not a significant source of other nutrients. Percent daily values are based on a 2,000 calorie diet.